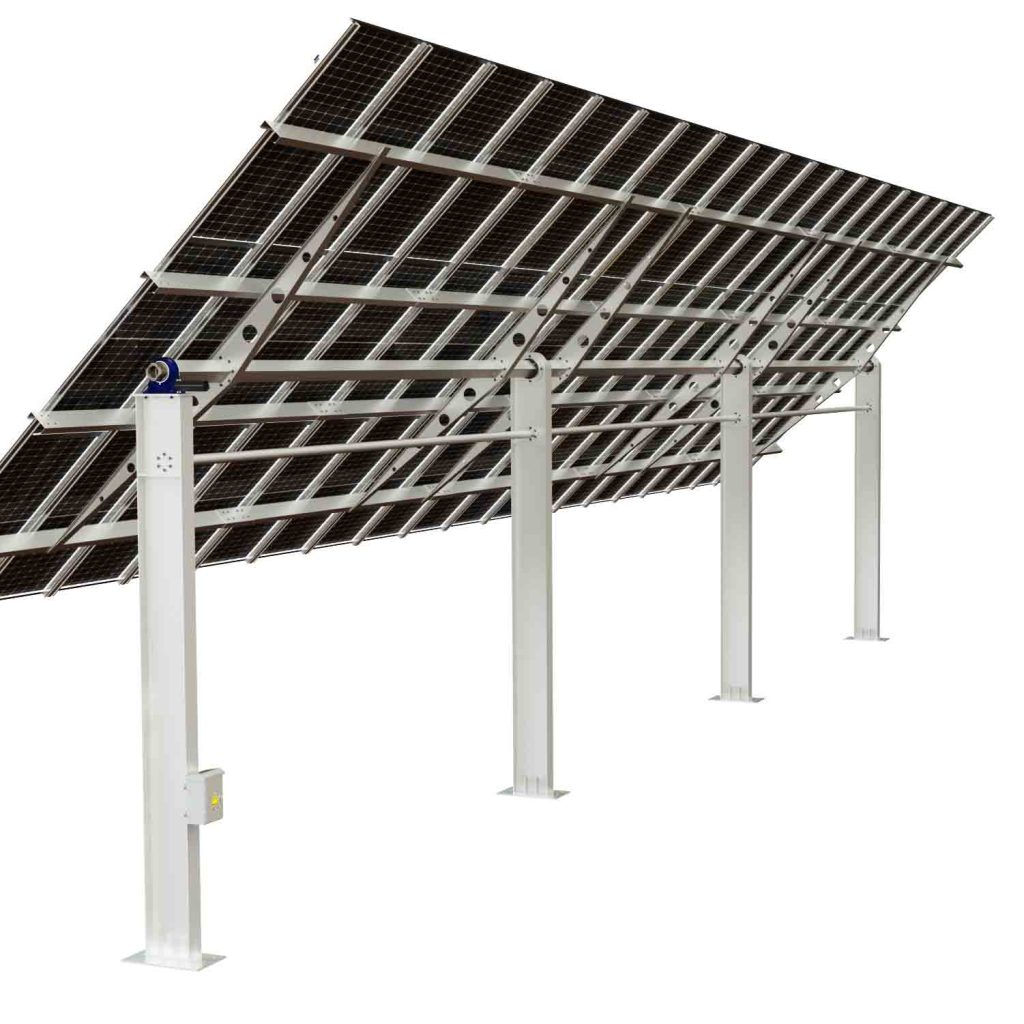 The single axis solar tracker has a simple structure, high cost-effectiveness, suitable for large solar power stations.
BOFU single axis solar tracker is equipped with a unique arch purlin and patent damping bearing, which keeps the system in a self balanced state at all times, effectively reducing the power consumption of the driving motor.
The cost of the dual axis solar tracker is relatively high, but each system operates independently azimuth rotation and pitch moving, making it higher power generation rate and suitable for application in complex terrains.
The solar tracking carport added solar tracker on the ordinary fixed carport, it equipped with an astronomical algorithm controller, which determines the real-time position of the sun based on the longitude, latitude, then the beam and solar panels is driven by slewing drive to rotate with a rotation angle of ± 30 °, allowing real-time tracking of the sun's position, ensuring that sunlight always shines at the most angle on the solar panel, achieving maximum power generation efficiency.
BOFU Solar focus on the solar tracker
About
BOFU founded on year 2007, the department of solar concentrate on the creative design and manufacture of solar tracker, and own many patents on solar field, main products is single/dual axis solar tracker.
Through years development, thanks to the high quality creative products, BOFU has built business relationship with many global enterprise such as Saudi A.A.TURDY Group, Australia KOGAN,  Russia Sakhalin Energy Investment Company, etc.,
Green Energy
Development
Facts
With the continuous development of the global
economy and people's increasing awareness of
environmental protection, new energy has become the main trend of future energy development. The proportion of solar and wind energy in global electricity generation continuously increasing.
CONTACT US
+86 411 62660388
Cooperation Process
cooperation
 We provide the design, customized manufacture, logistics, and one-stop purchasing of solar trackers, meet requirements of different clients.
News and Trends in the New Energy Industry
news
In case you have any suggestion or question, please contact us
BOFU provide ODM of solar tracker